Internet T1 and Ethernet Internet
Hands on Management
Internet T1 is not your ordinary Internet Service Provider. Only the highest quality networks and technology are used to provide Internet services to your business. Many other competitors use older or inferior technologies trying to cut costs, providing you with lesser quality. This leads to the risk of causing excessive outages and downtime, requiring you to take time out of your busy day to manage it all. Internet T1's high performing networks and customer support will make sure that your Internet T1 connections and Ethernet Internet connections will work for you each and every day.






Proactive Monitoring
The entire Internet T1 network of Internet connections and managed hardware are integrated with the global network eye monitoring system. This proprietary monitoring system automatically notifies the support NOC anytime a network issue is seen. Because of this quality standard, in many cases Internet T1 will be contacting you, and already be in the process of pinpointing the problem, before you even become aware of an issue.

Ensure Your Uptime with Backup Connections
There are a handful of reasons why your Internet service can go down. Local loops can fail, heavy rainfall can cause problems with the connections and T1 cards commonly go bad at the central office. With our technology and knowledge of the Internet, Internet T1 can increase your uptime availability in the event you suffer an outage.

All backup connections are network, carrier and central office connectivity diverse. In addition, exact replica Cisco hardware and configurations are maintained at your local Internet T1 or GLOBAL IT office. If an issue occurs the switch from your primary to our back up is almost instant; give or take 5 to 10 seconds.

Your bandwidth speed will slightly decrease but it will remain fast enough for you to browse the web and retrieve email, all while keeping you connected to your WAN.

Colocation Data Center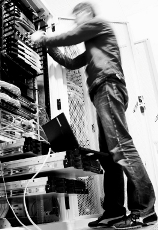 Many businesses keep their data center in house because they believe that this will reduce their costs and allow them to have maximum control, but more and more companies are learning the hard way that using a colocation data center is really the best option. Internet T1 makes hosting off-site an affordable option and ensures maximum uptime and security.
Internet T1 offers the most competitive pricing all while lowering your energy costs, personnel costs and additional miscellaneous expenses associated with managing a data center.
Most in house data centers do not have the proper cooling system needed to keep their servers at the required temperature because it is too expensive or because the building in which it is located is not suited for the right type of system. Internet T1's colocation data center is designed to keep all equipment at their optimal temperature level, reducing the chances of any downtime.
Hiring experienced IT professionals to manage your in house data center can be a huge overhead and many IT professionals are not specifically trained to know how to manage and maintain a data center effectively. Internet T1 has the most knowledgeable and highly trained staff to manage your servers, increasing your security and eliminating downtime.
If you are using your own corporate data center, chances are that you do not have a backup power source which can cause hours of downtime in the event that there is a black out. Internet T1 has backup generators so that your servers never need to be rebooted and your system never needs to be fully restored.
Internet T1 provides the highest security to your data by using the most technologically advanced firewalls, having 24/7 on site security staff, video surveillance and fire detection systems. This amount of security would exceed most company's budgets. So if you are looking for maximum protection moving into an Internet T1's colocation data center facility is your best option.