Web Hosting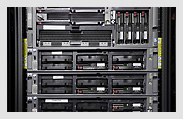 Switching Technology Services to a Hosting Provider
Technology services like web hosting, e-mail, and domain service registration are all bread-and-butter functions that are fundamental to any company conducting business in today's competitive climate.

Instead of building up back-office technologies that will quickly age out, using Internet T1's hosting services can increase the quality and performance of your web hosted solutions while simultaneously reducing your costs.
Web Hosting Services That You Can Count On
Internet T1 automatically backs up all files every 24 hours as a standard procedure at no extra cost.
If your site or files mistakenly get corrupted, you can request Internet T1 to provide a free backup to the previous day and in most cases it will take only one hour to complete.
Unlimited Bandwidth Potential
You will be hosted on servers that are connected to bonded 1000Mbps (2 GBPS) bandwidth connections from diverse carriers so when your website is ready experiences substantial growth the servers, network and systems are one step ahead.
Advantages of an Email Hosting Provider
Building a server to distribute e-mails, host one or more web-sites, and perform backup and recovery operations is expensive and requires staff experts to support and maintain this equipment.
FEATURED HOSTING SERVICES
Internet T1 technicians have installed such a wide variety of e-mail systems, websites, domain and backup, and recovery solutions that their experience rates them as experts. Most employees are not going to experience so many diverse technology environments, so you can trust these professionals to setup your hosted solution correctly the first time.

Because licensing and hardware expenses are the responsibility of the hosting service provider, you can write-off these annual expenses. The monthly costs for these are extremely low:

• 10 e-mail accounts and registered domain, only $12.50 per month.
• 25 e-mail accounts and 5 domains, only $25.00 per month.
• 100 e-mail account and 20 domains, only $50.00 per month.

An e-mail server and license would cost more than the most expensive option listed.
Switching to an Email Hosting Provider Will Not Degrade Performance
Moving such critical technology services like web hosting and email outside the walls of the business data center may seem like a risk to performance, but it's not. Internet T1 actually have the advantage of colocating their equipment with telecommunication vendors.

Internet T1 can offer 1000 Mbps or 2 GBs of bonded, carrier grade service located closer to the connection hubs. For hosted solutions, this translates to greater bandwidth and more horsepower for customers to access company services and websites.

Taking advantage of these robust Internet features offers another opportunity for significant savings since businesses avoid building additional, costly telecommunications infrastructure.
Enterprise Blade Servers
Redundant Servers
Backup copies of files
1000Mbps bandwidth
Lowest latency bandwidth
Fast servers 16Gb Ram
Quad Dual Core Servers
Auto Back every 24hrs
Windows 2008 R2 Hosting
Unix Hosting
Word Press Hosting
Premium Data Centers
BGP with Top Tier 1 Carriers
Web Statistics
Unlimited Hosting Available
Account manager
Assitance with code
Transfer & Set up Assistance
Hosting Proposal