Search Engine Optimization
Valuable SEO Techniques
Internet T1 has been doing Search Engine Optimization for many years and is known for achieving impeccable results. Each client is evaluated on an individual basis to discover what techniques will be best for their online marketing campaign.

Some companies benefit more from organic Search Engine Optimization (being displayed on the Search Engine Results Page without paying to be there), some companies benefit more from Search Engine Marketing (paying to be displayed on the SERPS and additional websites) and some companies benefit from a combination of SEO and SEM.

Online Marketing consultants at Internet T1 have the expertise to show each client what the best plan of action is for their online marketing campaign. First a Keyword Analysis is conducted to show which keywords are the best for the client to target. A keyword list is then fine tuned by doing a Competitive Analysis. The Online Marketing consultant works with each client to ensure that the online marketing campaign is generating the needed results within the client's budget.

Search Engines are consistently changing their algorithms so it is important to do business with a reputable company that can foresee any upcoming changes and take the necessary steps to keep traffic and sales increasing.

Using only ethical techniques, algorithm changes usually affect Internet T1's clients in a positive way by increasing their ranking. This is what sets Internet T1 apart from all other SEO companies.
Social Media Marketing
If Social Media Marketing is a good fit for your business, but you don't know how to implement a campaign, Internet T1 can create all the necessary accounts for you and manage them on a monthly basis if needed.

Online Marketing Consultants will be able to advise you on what social media platforms with give you the best return on your investment.

Local Marketing
Internet T1 offers Local Marketing for the clients who only want to cater their products or services to the local area. Local Marketing can be a very inexpensive way to build a reputation in your area for being the number one provider of your niche. Usually a variety of SEO, SEM and Social Media Marketing is integrated into each Local Marketing campaign.
featured products
Organic Search Engine Optimization
In order to achieve high ranking in the SERPs your website needs to have just the right formula of meta-tags, headers, content, images, links, etc. This is known as on-page optimization. Internet T1 knows exactly what the search engines are looking for when they come index each website and individual web pages.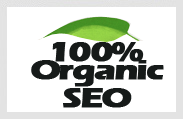 Once all the marketing pages are fully optimized, it is necessary to start creating buzz about your site. This is known as off-page optimization. If your website is live and no one is linking to it or discussing it, you can bet that your ranking will drop substantially. Internet T1 has cutting edge techniques to ensure that your website gets in front of people and becomes the talk of the town. As the online activity shoots up, so will your rankings!
Search Engine Marketing
If you have an ecommerce website, chances are that you will need to have a Pay-Per-Click campaign implemented. The reason for this is because with so many products, it may not be cost effective to optimize each product organically. Internet T1 can implement your Pay-Per-Click campaign and manage it each month.
If you offer a product or service that has a low search volume, then an SEM campaign is a must. This allows your company name and your product or service to get in front of people that may be interested in what you have to offer, but are not necessarily searching for it. The targeted audience can be fine tuned to meet the needs of your ideal prospect.
Search Engine Marketing is also effective for those that need results immediately while their organic optimization is in the implementation process, and for the companies who want to be front and center all the time we recommend to do both SEO and SEM as this increases exposure, increases ranking and increases sales.

Email Marketing
Many times getting on the first page of Google or Bing is not enough to maximize the amount of traffic you can get to your website. Starting an email marketing campaign is a great way to get in front of your existing clients and prospects. Email marketing assists you in introducing new products, selling items that you have discounted, provide valuable information to those who need it, gain new clients through forwards.
Internet T1's email newsletter platform offers more than just emails, you can use it to send auto responses to those who sign up through your website and you can even use it conduct customer surveys and ensure that your customers are always happy with your service. All social media platforms can be integrated with your email marketing account. You can even use the system to add posts to your Facebook account at the exact time and day you specify. All email newsletter templates are easy to use. If you want your newsletter to match your marketing materials, Internet T1 can custom design templates for you.
100% Ethical Techniques
Keyword Analysis
Competitive Analysis
Website Structure Analysis
Content Writing
Linkbuilding Services
Monthly SEO/SEM Reporting
Google Analytics
Google Places
Bing Analytics
Bing Business Portal
Pay-Per-Click Campaigns
Affiliate Marketing Campaigns
Social Media Campaigns
Facebook Integration
Twitter Integration
LinkedIn Integration
Blog Integration
Local Business Marketing
Local Business Directories
Email Newsletters
Customer Surveys
Autoresponder Emails
SEO Proposal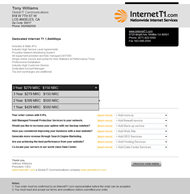 Receive a professional SEO proposal online in seconds!


Online Marketing Packages
Many SEO companies offer a package for a certain amount of keywords, a package for local marketing, a package for backlink building and the list goes on. The beauty about working with Internet T1 is that you book the amount of time that fits your budget (e.g. 30 hours per month is our Medium SEO Package) and they will tailor their services to best fit your needs.