What is a T1 Line?
T1 lines are the standard by what all Internet is measured. They are commonly connected by reliable copper pairs and connected to innovative fiber optic wire. T1 lines are capable of delivering information at speeds that are just not able to be accomplished by other methods like DSL or cable.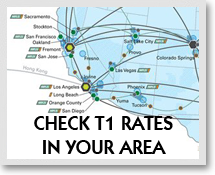 It is important to note that in order to maintain this level of quality it is often necessary to add on extra equipment such as a router. Not every T1 provider offers routers as standard equipment so it is important to verify if the pricing quoted includes the necessary hardware.

Internet T1 always allows their client to purchase or lease the equipment needed to install the high speed T1 line. Choosing a vendor that offers qualified technicians to handle the installation is also something that should not go overlooked.

All of the technicians that perform installations for Internet T1 are all highly skilled and certified.

Can I Get a T1 Line in My Area?
The great thing about T1 lines is that since they has been around for many years, they are available at virtually any location. In more remote locations, you might end up paying slightly more than you would in a more populated area.
What makes Internet T1 different from other service providers?
Businesses are relying on the Internet to do a bulk of their business more than ever before. Whether it is an add-on to a physical location or it is entirely Internet based, one thing is paramount, a good Internet connection is needed for your business. That is the main reason why T1 lines exist and it is perhaps the most popular connection for businesses today. Here are some key points as to why a T1 line is a great option for businesses: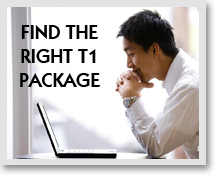 • Higher Standard of Service: A benefit of T1 lines is that the quality of the connection itself is guaranteed through service level agreements or SLA's. This is a very difficult if not entirely impossible claim to make with most other Internet connections.

• Faster Speeds: The reason why so many businesses are looking for a T1 provider is speed. Up and down speeds typical with a T1 connection start at 1.544 Mbps and go up from there.

• More reliable: When adding more T1 connections you are effectively bonding together to become a single failover connection which in end results in more uptime for your business. Something fiber, DSL or cable does not offer.

Even if your business is not web based, you can still benefit from having a T1 Line service. Having such a service ensures that you are able to complete your purchases in a timely manner, creating confidence within your customers that your website and its connection will always be running. This is important because most, if not all, companies encourage their customers to complete their orders online. Having a website that can provide constant uptime will not only affect your potential profits but it also will keep your customers happy and confident in your company.
Before make a decision on your T1 service provider, be sure to talk to their customer service center. You will want to choose a company with a flexible and responsive customer service team. Internet T1 has top ranked customer service agents that are there to help with any Internet question you may have.
Get More Bang for Your Buck!
As a business owner, you might be tempted to go with a cheaper option like a cable or a DSL connection. While many providers are introducing cable and DSL options for businesses, Internet T1 offers the best option with affordable T1 lines. Cable and DSL connection may look appealing because of their price, but if you want top quality performance for your business across the board, a high speed T1 line is the best option most businesses will ever need.

More About Internet T1
Internet T1 is a leading Internet Service Provider located in Los Angeles, California, providing T1 connections throughout the US. Offering Colocation, Ethernet Internet, Web Hosting, Web Design and SEO, Internet T1 allows you to have the highest quality communications for your business. If you wish to speak with a customer service representative, please call (877) 822-5565.