a few words about Internet T1
Trusted Nationwide Internet Service Provider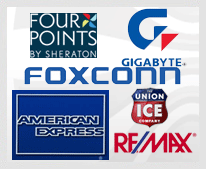 The products and services provided by Internet T1 and GLOBAL IT are trusted, used and recommended by thousands of customers. As an industry leading Internet Service Provider they maintain one of the highest customer retention rates in the industry.
"Excellent service"

"Supporting a demanding network for clients is a major part of my role and success of our business. Therefore selecting the appropriate vendor is an integral part of this success. I am very pleased with the way Internet T1 / GLOBAL IT with their technical and billing team has handled our business demands and all with excellent customer service." IT Manager, Computer Configuration Services
"Contacting us before we called them"
"Having downtime is not acceptable and in the years of service we have had with Tony and his team, we have never been down." When we lost power to our building Internet T1 / GLOBAL IT was contacting us before we called them. President, Bachrach and Associates
"Trustworthy and on time"
"Our over the past years our internet connection has never missed a beat and we have called on Internet T1 / GLOBAL IT to be our remote hands and support numerous technical requests like installations of equipment or swap out and replace customers technical equipment to help support our LA Data Center operations and I have found them to be trustworthy and on time with all our needs." IT Director, Telus International
"Very Satisfied"
"I was looking for a cost effective and reliable solution to our local operations and that is exactly what I found with Internet T1 / GLOBAL IT. We are very satisfied with our service, thank you!" President, Lab Works
"Refreshing change"
"Working with Internet T1 / GLOBAL IT has been a refreshing change. They are very knowledgeable and the customer service is exactly what we needed; we look forward to many more years of great service." President, Image Domain
"Excellent service"
"Having a high performing network and much uptime is very important of our Los Angeles operations; we are very grateful for the excellent service we receive with our internet connections and the customer service we receive has been good too."Operations Manager, Giga-Byte USA